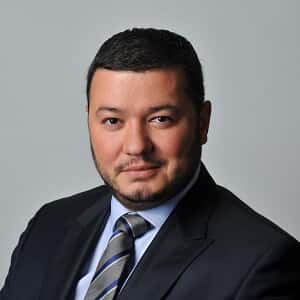 Onur Mustafaoğlu
Co-founder & CEO
Onur Mustafaoglu, one of our founding partners and energy markets experts, will be leading Vensol Energy thanks to his 17 years of experience in the sector. Mustafaoglu has managed national and international company acquisitions and business development processes in prestigious energy companies based in Turkey, the Middle East and Europe, has completed the purchasing and sales processes of many renewable energy projects, established and managed renewable energy-based investment funds.          
Onur Mustafaoglu, one of Vensol Enerji Investment & Financial Advisory co-founders, is an energy market professional with 17 years of local and international exposure, focusing on business and project development, investment strategies, M&A and financing/refinancing of renewable energy projects, private equity investment funds. Onur is also currently general partner and investment committee and board member in Actus Greenone Yenilenebilir Enerji Private Equity Investment Fund and Istanbul Portfoy1 Efeler Ciftligi Tarim ve Hayvancilik Private Equity Investment Fund.
Prior to Istanbul Portfoy, Onur served as Country Head for Alcazar Energy Partners2, a Dubai based renewable energy fund, for more than 3 years.
Onur oversaw full cycle of M&A activities for Alcazar in Turkey and Jordan. Total enterprise value of renewable energy projects originated and due diligenced under his management was more than USD 650m. During his service, Onur also covered Greek renewable energy market and originated renewable energy portfolios with an aggregate size of more than 1.5GW consisting of onshore wind and solar PV projects.
Before joining Alcazar, Onur was Business Development Manager for SunEdison, globally the largest renewable energy developer of its time where he managed M&A and BD activities of energy projects with more than USD 1.1bn enterprise value.
Onur holds two master's degrees: An Executive MBA from Bogazici University and Energy Engineering from The Pennsylvania State University, US.
The author of a globally sold book on hydrocarbon based alternative energy resources3:
Characterization and Pyrolysis of Oil Shale Samples: An Alternative Energy Option
May 15, 2010
---
3 https://www.amazon.com/Books-Onur-Mustafaoglu/s?rh=n%3A283155%2Cp_27%3AOnur+Mustafaoglu
Energy Management
Project Management
Engineering
Power Plants
Business Development
Mergers & Acquisitons
Due Diligence
Portfolio Management
Corporate Finance & Management
Bogazici University
Executive MBA, Business Administration and Management
2015 – 2016
–
Penn State University
Master of Science (M.Sc.), Energy Engineering
2004 – 2007
Confidential (Solar Project)
Solar Portfolio
Confidential (Renewable Port.)
Mersinli WPP
Copelouzos Portfolio
J&P Avax Solar Portfolio
Kozani SPP
Sagdag WPP
Kirazli WPP
Poyraz RES 
Wind Tender Portfolio
Al Rajef WPP
Confidential (Renewable Port.)
Ma'an SPP
Solar Tender Portfolio
Soyak Enerji Portfolio
Mahyadag WPP
Sellside Advisor
Buyside Advisor
Buyside Advisor
Sellside Advisor
Buyside
Buyside
Buyside
Buyside
Buyside
Buyside
Buyside
Buyside
Buyside
Buyside
Buyside
Sellside
Buyside
2021
2021
2020
2019
2019
2019
2019
2018
2018
2017
2016
2015
2015
2014
2013
2013
2012
25 MW
69 MW
585 MW
62.4 MW
150 MW
110 MW
200 MW
55 MW
50 MW
32 MW
1000 MW
86.1 MW
535 MW
23.8 MW
120 MW
212 MW
100 MW
USD 37.5m
EUR 52m
USD 630m
USD 75m
USD 220m
USD 100m
EUR 160m
USD 82.5m
USD 75m
USD 56m
Confidential
USD 190m
USD 712m
USD 55m
Confidential
Confidential
Confidential
Projects and portfolios listed in the table are either completed transactions or sell or acquisition processes where a detailed due diligence study was fully completed, and SPA was prepared and negotiated.